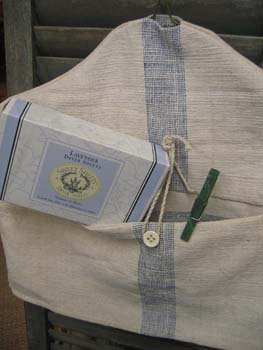 Pages of Treasures
Laundry Room & Keeping Home
The sign of a well-loved home is luxury in the often-neglected laundry room, linen closet and dresser drawers! Indulgence your senses as there's nothing better than sheets and linens awash in lavender and sweet pea!
Fig Soap-Glass Jar
TEMPORARILY SOLD OUT. We are CRAZY for figs, and this is the absolute best liquid soap in FIG SCENT we've ever come across! It's atop our farmhouse kitchen sink, in the boutique's bathroom, & even in the warehouse sink! (It's our puppy's favorite, too!)
Simple & clean as you'd expect from the famous Marseille soap. Of course the French classy it up by putting it all in a glass pump bottle. Eco-friendly plastic refills coming soon in 33.8 fl oz! Let us know if interested in this also.
Be sure to pair it up with the lotion sold below. You won't be sorry with this choice! Imported from Provence,
More Details

+
Price $26.00
French True Blue Lavender - Mason Jar
The real deal imported and presented in petite mason jar for gift giving. This has been a popular dinner party favors at each place setting. Jar measures 3 x 3. New; Provence, France.
More Details

+
Price $17.50

Vintageweave Interiors
7928 West 3rd Street,
Los Angeles, CA 90048

FREE TO CALL OR EMAIL US WITH YOUR ORDER OR QUESTIONS 323.932.0451 or store@vintageweave.com
WE SHIP UPS DOMESTICALLY-INTERNATIONAL ORDERS ARE POSTAL SERVICE OR UPS

Shipping charges are sent to you via confirmation email once we receive your order; if the total shipping exceeds 25% of your order, we do not bill your card until you approve all charges. FOR ORDER $25 AND OVER, all charges are actual as we never charge a handling fee for continental U.S. Orders! ORDERS UNDER $25 WILL INCUR A $2.00 PROCESSING FEE; International orders will incur a $5 processing fee.