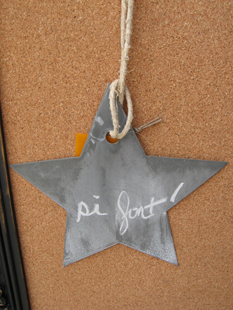 Zinc Chalkboard Star - Medium
$55.00
$36.00 On Sale, Lucky Dog!
You Save

36.00
Zinc Chalkboard Star - Medium More Details
Chic! French Zinc Star...ooooh the choices: hang from a package, doorway, corner of a mirror, bulletin board, or dressed to the nines amongst your holiday mantel greenery display! Adorn the stockings unless you don't want to encourage peeking! 6" square with French jute hanging ribbon. Imported from Aix en Provence.